💡 Note:
This function is only available for
Enterprise
version.
I. Intro
Categories on Moments works best as a guide when publishing content, but larger organizations with multiple subsidiaries can also use categories to differentiate the content permission management of different members.
•

​

A company with many subsidiaries needs to operate and manage the subsidiaries separately.
•

​

It hopes only specific members can post content in the

News

category.
II. Steps
1. Category permissions and administrator settings
On the
admin console
go to:
•

​

Moments

>

Circles Management

>

Category Management

.
•

​

Click

Edit

on the corresponding category to begin modifying the settings.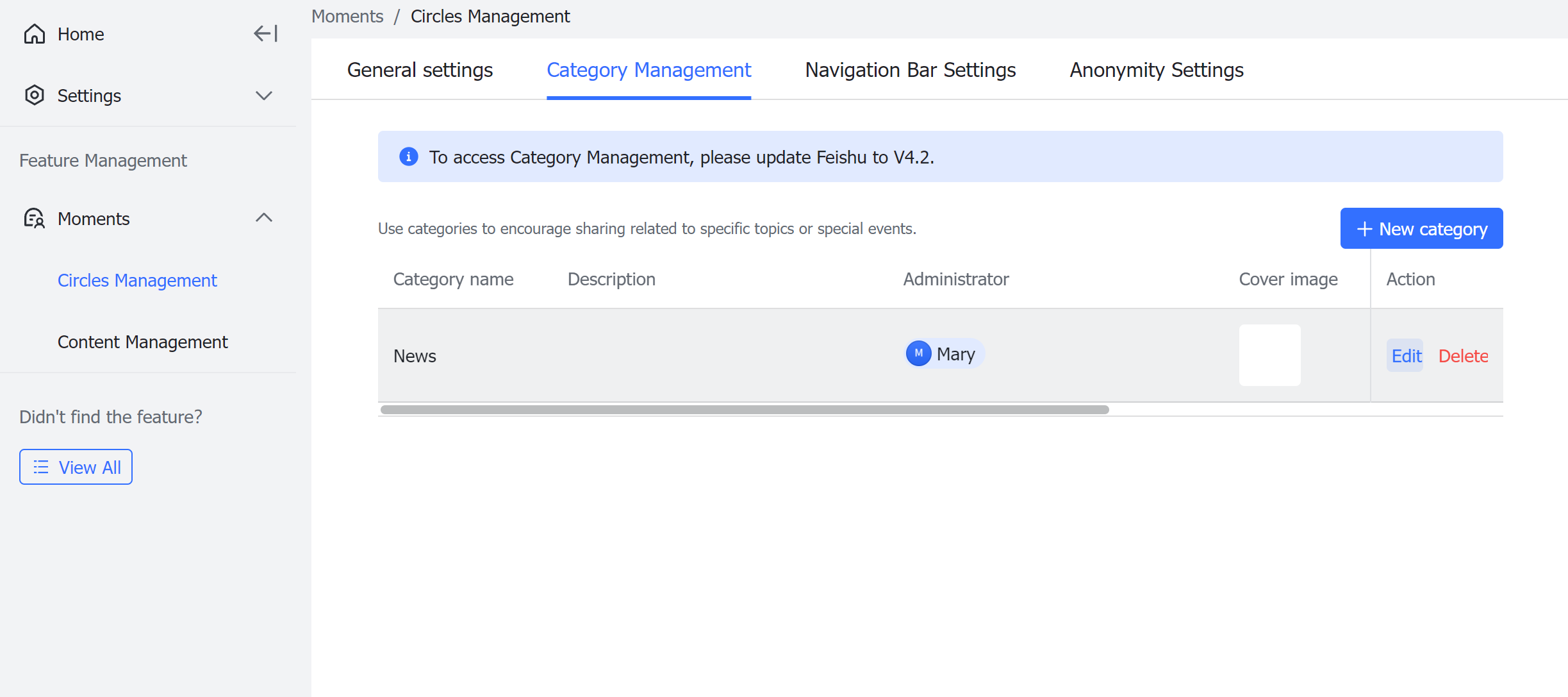 •

​

All members

: All members within the view scope of the Moments app can view this category; this can also be understood as setting the category as public.
•

​

Some members

: Selected members or organizations within the view scope can view; members who are outside of the scope will not be able to view this category or the content associated with it.
•

​

All members

: Every member with view permissions can post on this category.
•

​

Some members

: Only selected organizations or members can poston this category; those who have view permissions can still interact with the post and give likes.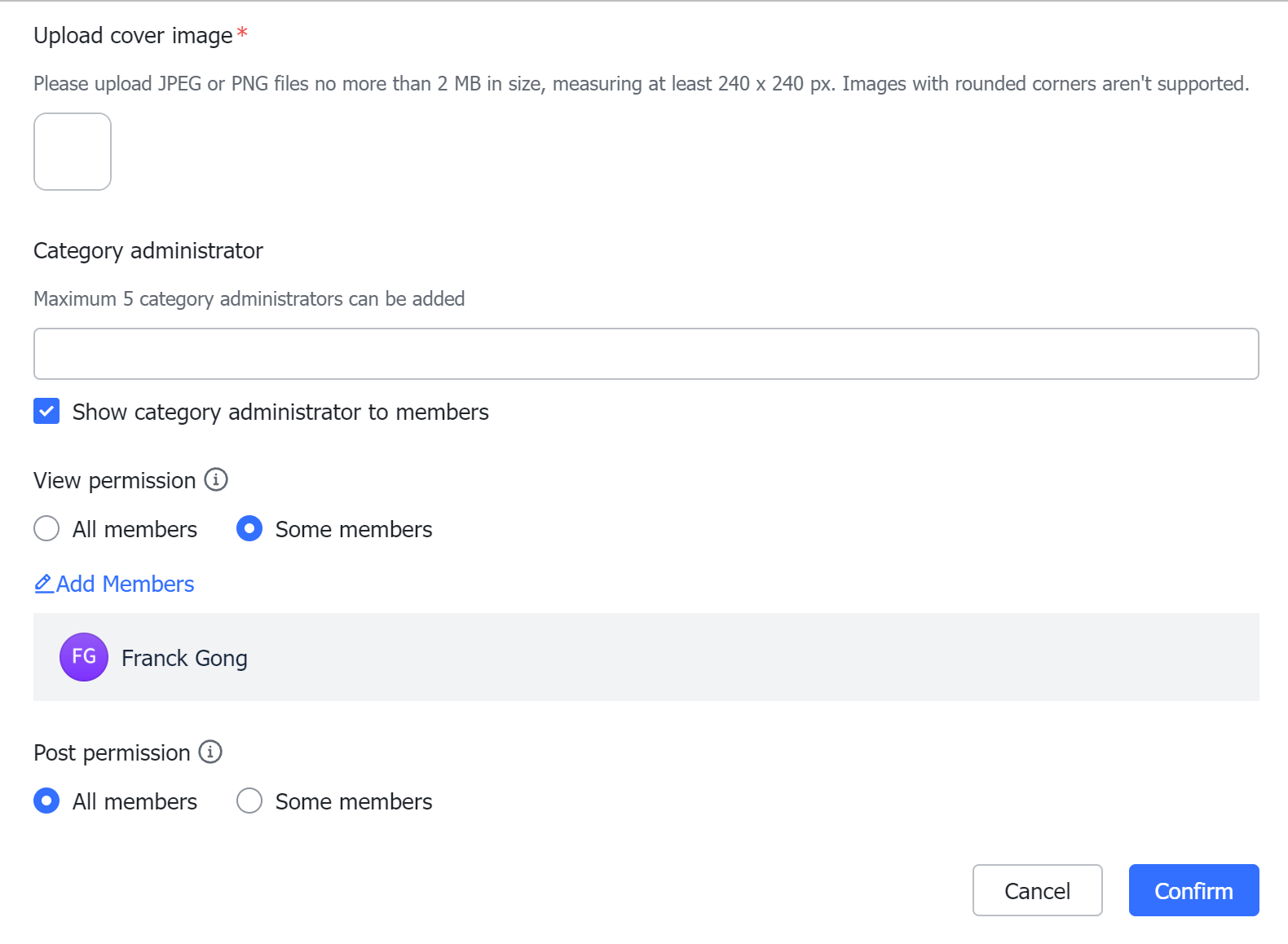 4. Category administrator
Note: This administrator function is only available on the desktop app.
Set administrators for each category individually and decide whether to their informations can be displayed on the client-side.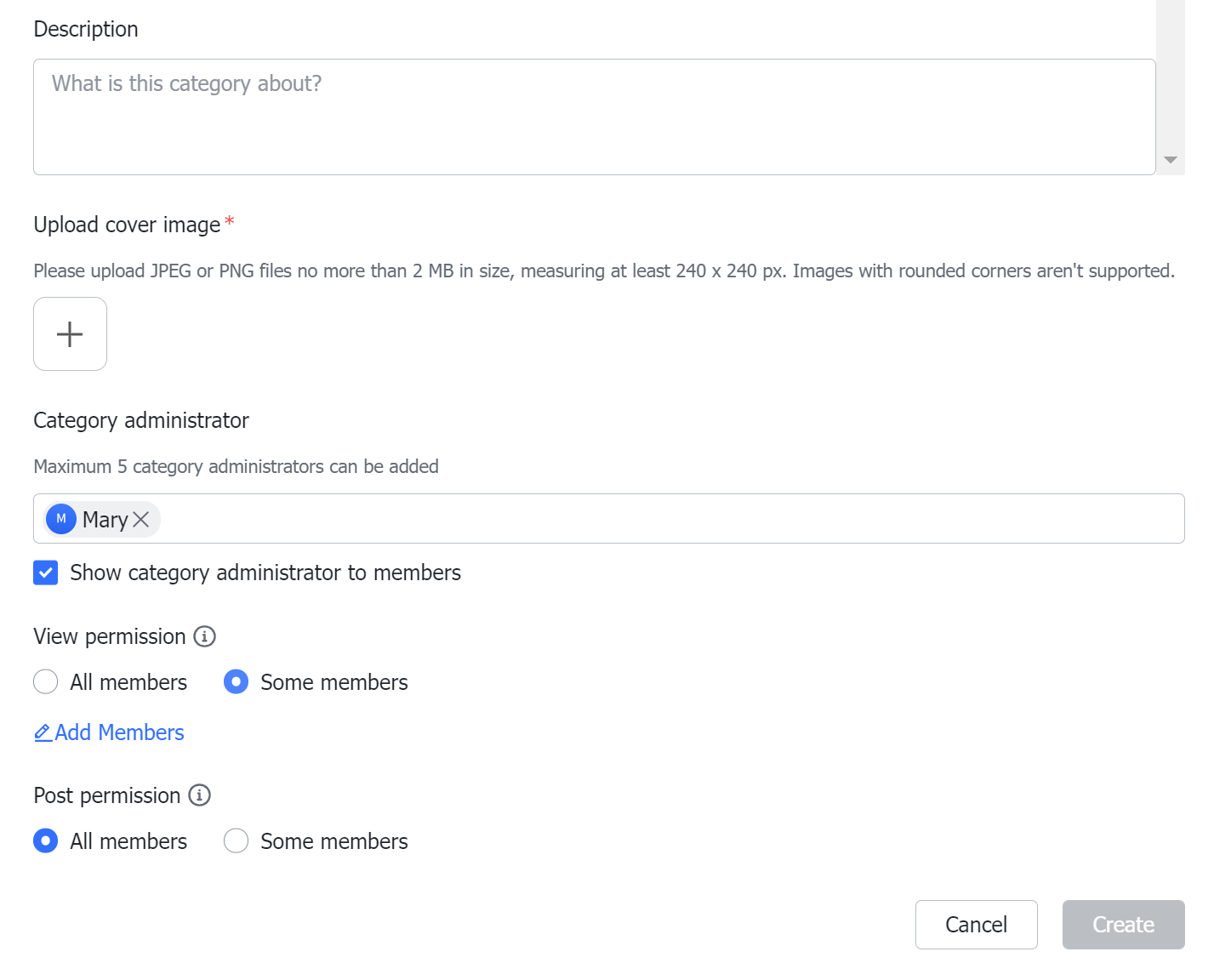 There are two types of administrators:
•

​

Moments administrators

: Have action permissions for all company content.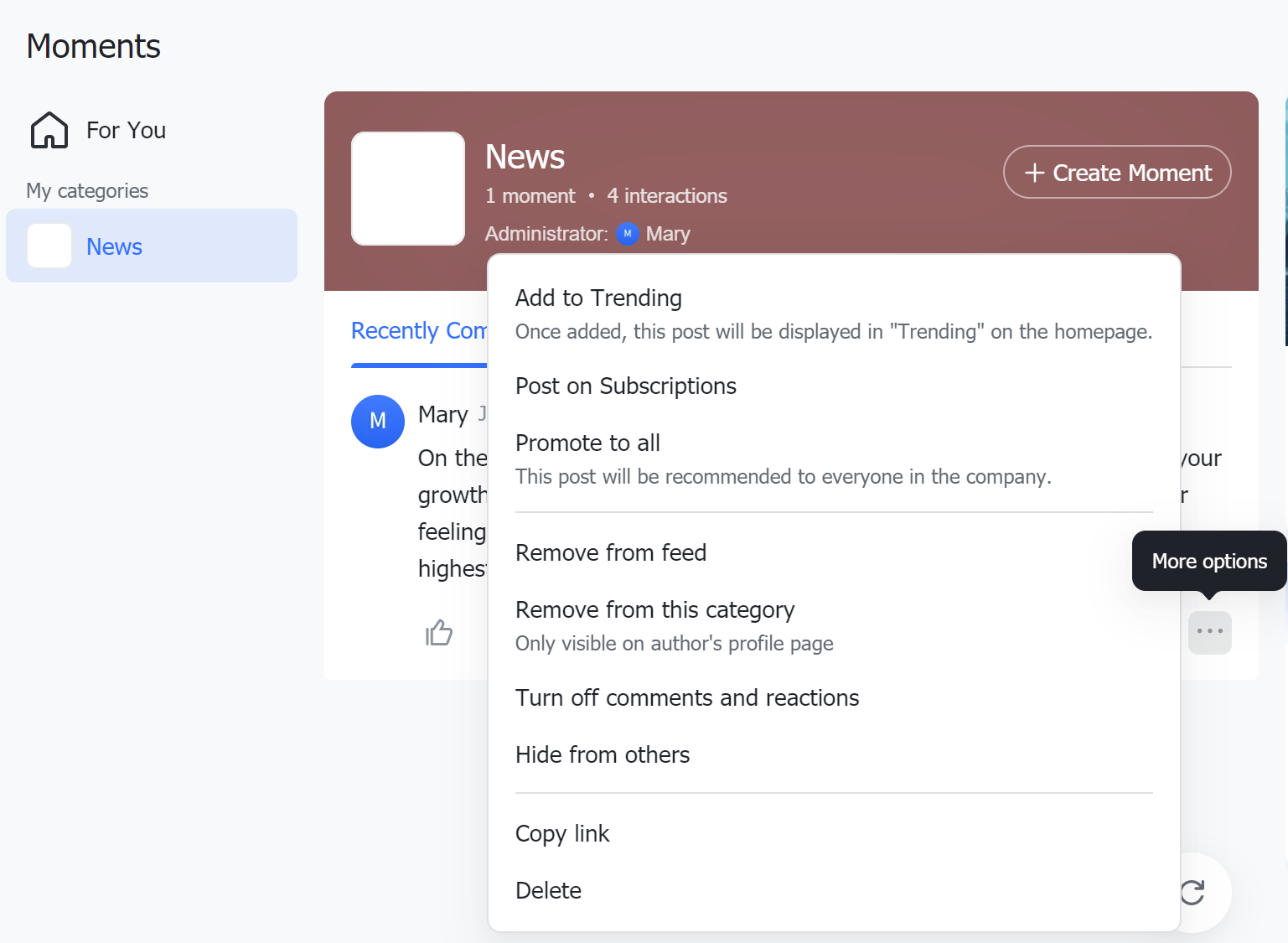 •

​

Category administrator

: Only have action permissions for a specific category.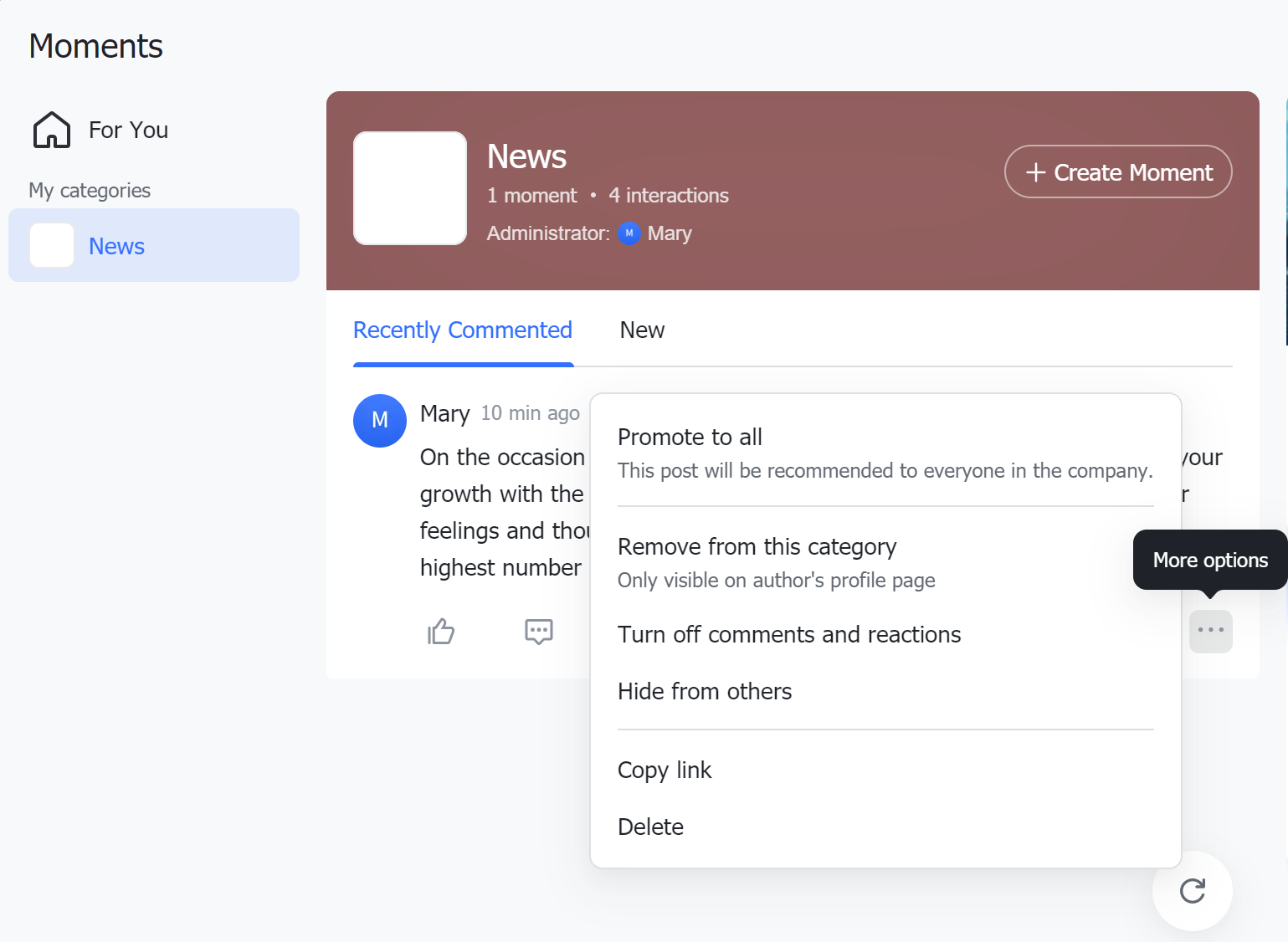 •

​

Promote to all

: Use this function when you want to promote specific content to the entire company; the promoted content will also no longer be restricted by its category. If the content was not initially restricted by a category, then this action can be ignored.
•

​

Remove from feed

: Administrators can remove content and clean up the feed to lead the feed in a certain direction. The original poster can still circulate the content normally and the content will also appear in its category as normal.
•

​

Remove from this category

: Remove content that doesn't comply with the operation standards of the category. Removed content can no longer be found in the category or the feed. However, it can still be circulated on personal homepages or through links.

This action can't be reversed.
•

​

Turn off comments and reactions

: If you want to stop a post from being discussed, you can

Turn off comments and reactions

for that post. Existing comments and replies will still be visible, but no new comments or replies can be added.
•

​

Hide from others

: The content is only visible to its author and the administrator, and other members will no longer be able to see it on the feed, category page, or sharing page.
•

​

Post on Subscriptions

: The Moments administrator can use the Subscriptions model to

edit posts and send the post and original link to other members of your organizations via chat messages

to reach more organization members.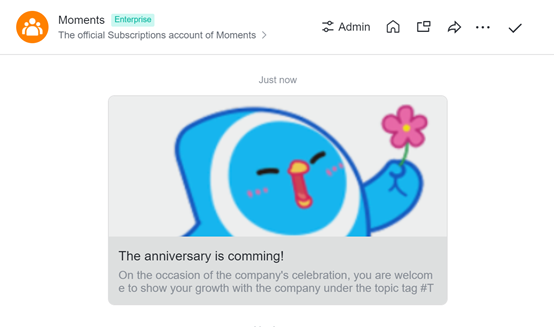 III. FAQs
What are the different permissions for content operation of the Moments administrator and the category administrator?
Turn off comments and

reactions

Turn off comments and likes
IV. Related